Configure default compute settings for your project
Pro plan users can now configure default compute settings for a Neon project. Settings include Compute size, Autoscaling, and Auto-suspend delay. To define defaults, select Settings > Compute from the Neon Dashboard to open the Default compute settings page. For Free Tier users, the page shows the default settings.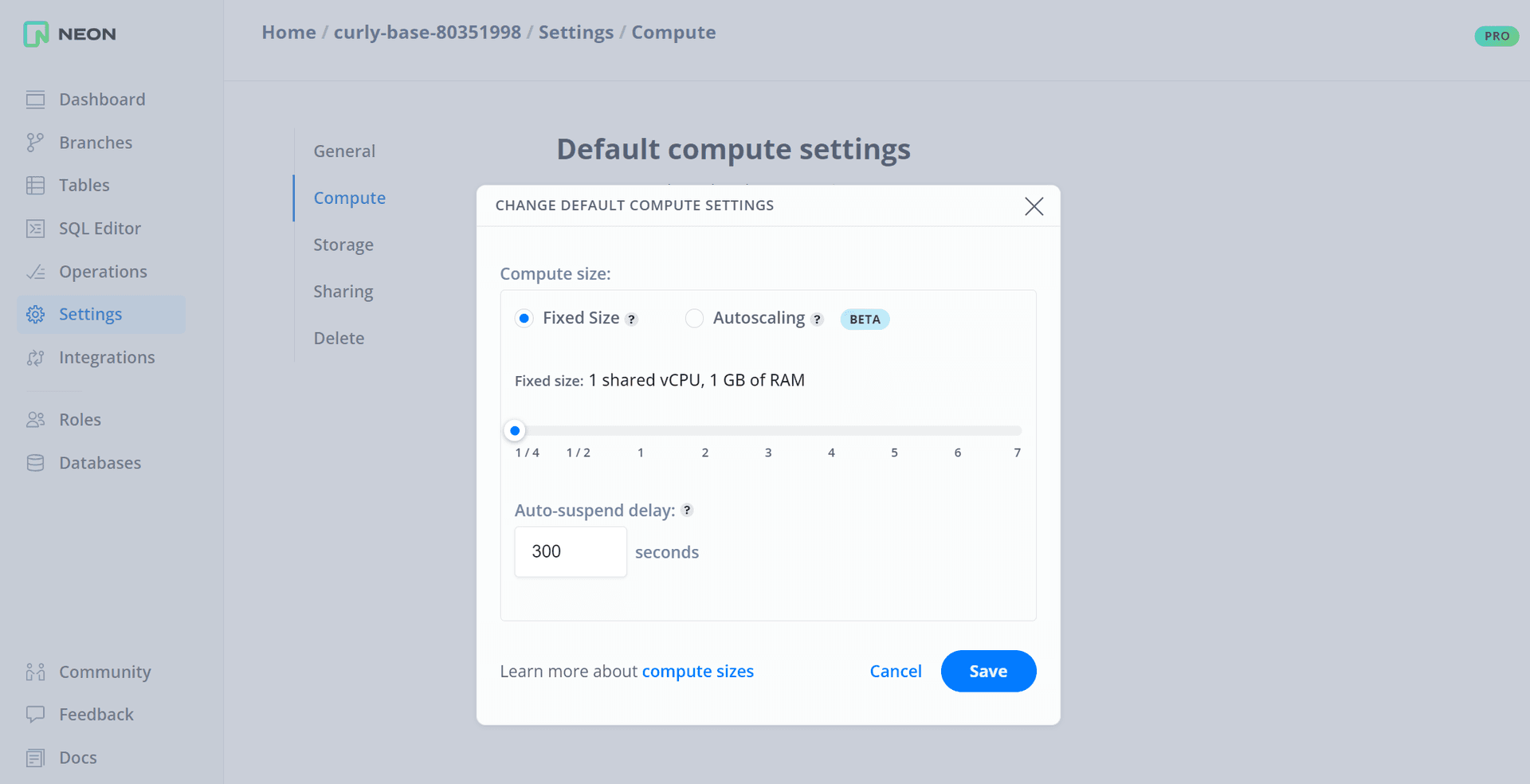 Default settings are applied when creating a branch or adding a compute to a branch via the Neon Console. However, if you want a compute with different settings, you can change or override the defaults when creating a branch or adding a compute.
In addition, the Compute widget on the Neon Dashboard now shows the Default compute size for your Neon project.
Fixes & improvements
API: Neon API v1 deprecation was announced in December, 2022. We have removed code for this early version of the Neon API. If you have not yet migrated your applications to the current version of the Neon API, please do so now.
UI: Added a Billing page to the Neon Console for Neon Enterprise and Platform Partnership custom plan users. The Billing page is accessible from the sidebar in the Neon Console.
UI: Addressed usability issues on the Custom tab of the Pro Plan Cost Estimator, which is accessible from the Free Tier Billing page in the Neon Console. Percentage values were not restored when switching from Enter your own values and Use a percentage. Additionally, minimum, maximum, and increment values were adjusted for Compute and Project storage metrics.
UI: The billing period drop-down menu at the top right corner of the Billing page now uses the current billing period as the default selection instead of the oldest billing period. This change applies to Neon Pro plan accounts.
Back to all notes